Music in Your Shoes – Since 2013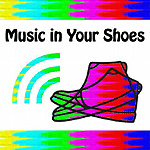 Got the Monday blues? Listen to Music in Your Shoes! Monday nights 8-10pm ET on 91.7FM WXCI.
Join your DJs AC and Cool J from 8-10pm to hear punk, garage rock, alternative, and more. They like having themes and guests too. Check out musicinyourshoes.com and facebook.com/musicinyourshoes.
Right here on your favorite radio station, 91.7FM WXCI Danbury. Commercial-free 24/7.