Record Store Day 2020 Part I
2020 has been a rough year for music lovers- not to mention the rest of the global population as well! Since mid March, we have been cheated out of our opportunities to see live music or to even really get together with people and listen to / talk about music. Though when it comes to die-hard vinyl junkies such as myself, it was the loss of record store access as well as the subsequent cancellation of April's Record Store Day that cut the deepest.
Grateful were we then, when we heard the announcement of not just one but three Record Store Days spread out over the months of August, September and October. With the first installment of these festivities coinciding with the soon-coming soft reboot of WXCI, I thought I would take a few moments to go over a few records I picked up yesterday!
Denzel Curry – 'Bulls on Parade / I against I' 7-inch
Carol City MC Denzel Curry should be a figure of little mystery to Hip/Hop heads of the new school, as he's been releasing quality left-field bangers for the better part of a decade now; first turning heads with his viral hit ULTIMATE back in 2015. Subverting expectations for this specific release, Curry saw fit to capitalize on his crossover into the realm of punk rock and release a vinyl EP of his live homages of Rage Against the Machine and Bad Brains. I do recall playing his cover of the former band's Bulls on Parade and coming to a consensus that Curry's interpretation may be in league (if not a tiny bit better) than the original version of the track. Given my admiration for Curry's work on these cuts, as well as throughout his whole discography, supporting him by copping this EP was a no-brainer.
Brian Eno – Rams: Original Soundtrack LP
If you aren't familiar with the work of Brian Eno, you probably just are and aren't aware of it. Eno has been behind the boards for numerous projects for artists such as David Bowie and U2, and holds the prestigious title of creator of the Windows 95 startup sound. In his solo work, Eno is known for paving the way for modern electronic music with projects like his Ambient series. Eno's ambient releases hold a special place in my current record collection as some go to spins for sitting back and spacing the hell out. Prior to RSD, I heard a few snippets of Eno's soundtrack in the trailer for the Rams documentary and knew that it would certainly be a welcome addition to my ever growing Eno repertoire.
Charlie Parker – Jazz at Midnite LP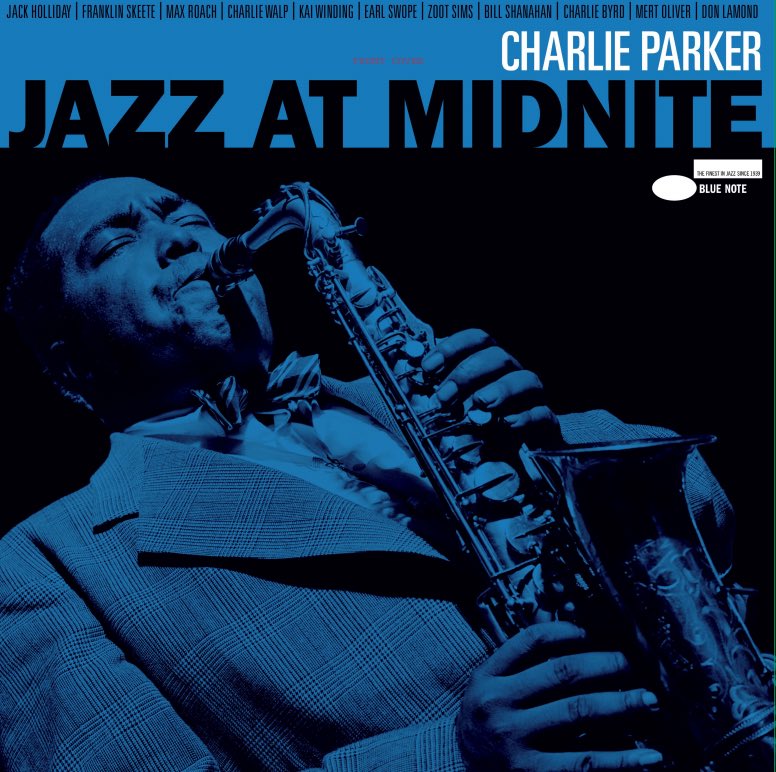 With Bird's centennial falling on the same day as RSD, and my collection lacking any of his material, I decided to grab what I could of the bebop legend's new issues. I picked up both his Jazz and Midnite and Dizzy Gillespie & Charlie Parker releases, both of which sounded as low in quality as would be expected from a live recording from the early days of bebop. The former record sounded fairly endearing in this regard, something like the once-lost treasure it truly is; however the latter did not share that quality, as I could barely make out the horn playing on the first track I listened to. Maybe I'll warm up to it on further listens(?).
John Lee Hooker & Canned Heat – Hooker 'n Heat 2xLP
As a recent blues devotee with no albums in my collection to show for it, John Lee Hooker and Canned Heat's double LP looked like a good place to start when I saw it on the roster. Truth be told though, I completely forgot to pick this up when I went in for RSD. I was driving home listening to Hooker's It Serves You Right To Suffer when it struck me that I neglected to get his RSD release. I pulled over right away and called my record store to see if they could put it aside for me. Being the good natured guys they are, they happily obliged; so I've still got to head over there and grab it.
Thelonious Monk – Palais de Beaux-Arts 1963 LP
Thelonious Monk is one of the greatest and most influential jazz musicians of all time and I am quite certain I'll hear no arguments against that as an objective fact. Subjectively speaking, I would say that my preferences in his discography may very well lie within his body of live recordings despite the superior quality of his studio work. Monk's 2020 release of a 1963 concert at Palais de Beaux-Arts in 1963 only serves to accentuate my point. This particular performance given by the Monk quartet finds itself comfortably situated at the cross-section between tranquility and originality to the point of excitement. Only owned the record a couple of days now, and I've already spun it more times than I care to admit.
-DJ Straight Edge
Category: News